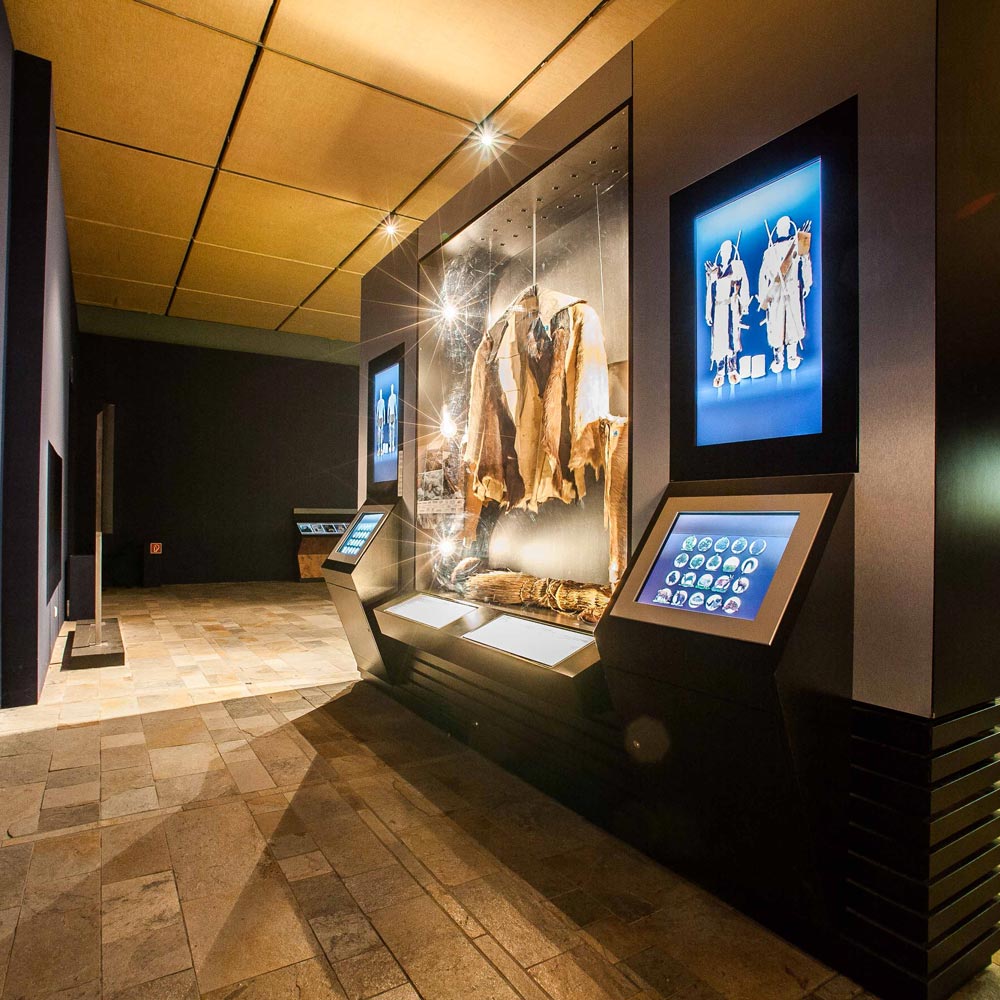 ---
Travelling exhibition
With its travelling exhibition the South Tyrol Museum of Archaeology is presenting an introduction to the topic of the Iceman. The exhibition presents numerous reproductions of objects and clothing found together with the Iceman. With an area of approx. 200 square meters, the exhibition provides visitors with plenty of opportunity to become well acquainted with every aspect of the Iceman.

Photo: ©Siegfried Brugger, Museumspartner

---
In the past
The travelling exhibition went live on January 25, 2003 at the Termini Train Station in Rome, Italy.


25.01.2003 – 26.04.2003 Rome (Stazione Termini) Italy
01.10.2003 – 31.01.2004 Vienna (Natural History Museum) Austria
02.03.2004 – 27.06.2004 Hannover (Niedersächsisches Landesmuseum) Germany
24.09.2004 – 22.11.2004 Budapest (Budapest History Museum - Castle Museum) Hungary
19.03.2005 – 10.04.2005 Nagoya (Boston Museum of Fine Art) Japan
19.04.2005 – 08.05.2005 Toyohashi (Museum of Natural History) Japan
19.07.2005 – 30.10.2005 Assen (Drents Museum) Holland
15.11.2005 – 15.03.2006 Maaseik (Minderbroedersklooster) Belgium
08.04.2006 – 10.09.2006 Frankfurt (Archäologisches Museum) Germany
07.11.2006 – 25.03.2007 Vaduz (Liechtenstein Museum) Liechtenstein
05.04.2007 – 31.08.2007 Torino (Museo Regionale di Scienze Naturali) Italy
05.10.2007 – 09.03.2008 Stockholm (Swedish Museum of National Antiquities) Sweden
09.11.2007 – 04.05.2008 Sydney (Australian National Maritime Museum) Australia
01.04.2008 – 03.08.2008 Højbjerg (Moesgård Museum) Danmark
13.03.2009 – 28.06.2009 Bellinzona (Museo Castelgrande) Switzerland
17.06.2009 – 13.09.2009 Varberg (Halland Regional Museum) Sweden
17.07.2009 – 22.11.2009 Madrid (Museo arqueologico regional) Spain
01.04.2010 – 31.05.2010 Makhachkala, Russia
01.06.2010 – 08.08.2010 Moscow, Russia
03.09.2010 – 27.02.2011 Helsinki (Espoo City Museum) Finland
28.03.2011 – 24.07.2011 Valencia (Museu de prehistoria) Spain
05.08.2011 – 27.11.2011 Oslo (Historisk Museum) Norway
03.02.2012 - 30.09.2012 Barcelona (Museu d'Arqueologia de Catalunya) Spain
07.02.2014 - 31.08.2014 Munich (Archäologische Staatssammlung) Germany
24.10.2014 - 10.01.2016 Granada (Parque de las Ciencias) Spain
20.03.2014 - 29.11.2015 Mistelbach (MAMUZ Museum) Austria
23.03.2016 - 22.01.2017 Braunschweig (Braunschweigisches Landesmuseum) Germany
01.06.2018 - 08.09.2019 Kerkrade (Continuum) Netherlands
05.10.2019 - 06.09.2020 The Hague (Museon) Netherlands