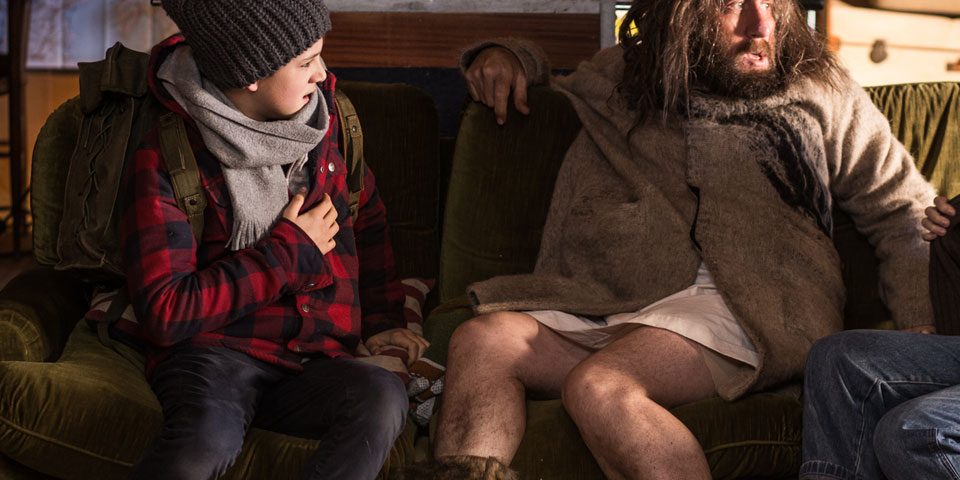 Filming in the Museum
Mondays in the museum are generally given over to maintenance work. Not so in February and March 2017, when the South Tyrol Museum of Archaeology became the venue for filming the motion picture "Ötzi and the mystery of time" (Italian title: "Ötzi e il mistero del tempo"). This Italian-American co-production directed by Gabriele Pignotta is an exciting family movie about three children who experience a breath-taking adventure with the Ötzi mummy. When they finally manage to convince the father of one of the children that they had indeed made this spine-chilling discovery, Kip, the 12 year-old main character, played by actor Diego DelPiano has a surprise.
During breaks in the filming the three children used the time to have a proper look in the museum at the real Ötzi mummy and the objects found with him. Anna (Amelie Bradley) proclaimed that "Ötzi is not scary at all, he is more interesting than scary". As a result of their research, Diego's friend Elmer (Judah Cousin) became the chief mummy expert. "Yes, he likes the copper axe," Diego teases his film partner gently. "You can see it even in the movie. He is the most interested in Otzi, he wants a copper axe, he wants to hunt treasures.…" He recommends future young cinema goers "they shouldn't be scared, because it's like really cool to see a mummy in real life."
The mummy in the film is played by Irish actor Michael Smiley. We asked him how he prepared himself for his role as a mummy and as Ötzi from the Copper Age. His mischievous answer: "I stopped shaving. And I wore less clothes." But despite his careful attempts at turning himself into a "wild and unkempt man", he cannot imagine living like Ötzi. "No. Not for a minute! He had a very, very hard life. My life is far too soft, I'm just a soft actor. He was a hunter-gatherer, he walked and lived in high altitudes. He led a potentially dangerous life. The fact that he was still around in his mid-forties or possibly even fifty, shows that he must have been a very strong man. So I don't think I could live a moment in Ötzi's time!"
In addition to Americans and Italians, the cast of this adventure film, which is supported by IDM South Tyrol Film & Film Funding, stars South Tyrol actors such as Hannes Perkmann, Katja Lechthaler, Martin Thaler and Peter Schorn. The film is expected to be on release in cinemas in spring 2018.
Photo: © OneMorePictures_FedericoVagliati